"You Can Easily Build Your Own Solar Water Heater and Save up to 33% Off Your Electric Bill Every Month While Helping the Environment."
Our do-it-yourself solar water heater guide is easy to follow with step-by-step instructions and is extremely affordable!
<![if !vml]>

<![endif]> Works in warm and cold climates
<![if !vml]>

<![endif]> Will greatly improve your homes energy efficiency
<![if !vml]>

<![endif]> Boost performance while reducing electricity usage
<![if !vml]>

<![endif]> Works anywhere in the world
<![if !vml]>

<![endif]> 100% safe/legal - guaranteed!
<![if !vml]>

<![endif]> Get set up for the cheapest, best value price.
<![if !vml]>

<![endif]> Enjoy incredible savings on your electric bill.
<![if !vml]>

<![endif]> Build your water heater for the lowest price. Similar water heaters cost $1000 and up!
<![if !vml]>

<![endif]> This system can be built in as little as a weekend.
Our easy step by step guide will show you several different plans to build your very own solar water heater system. These plans are easy enough for anyone to follow and will give you the option of how you would like to set up and install your water heater. You can build an entire system for less than $70. Once installed, you will be saving up to 1/3 of your electric bill each and every month.
<![if !vml]>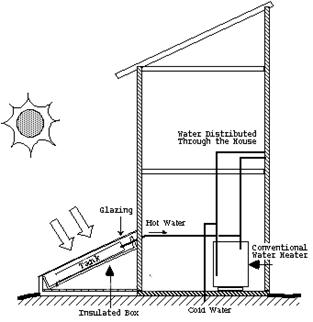 <![endif]>
Can a Water Heater Really Be Solar?
The answer is YES, ABSOLUTELY!
<![if !vml]><![endif]>

From the DIY workshop of Tom Hayden
Solar energy enthusiast
and creator of SimpleHeaters.com

Hi, my name is Tom Hayden and I have been studying, building and using solar energy for over 30 years. The technology to build a solar power water heater has been made easy and affordable.

As a matter of fact, solar water heaters are very popular and common around the world.
My Solar Water Heater kit is going to show you everything you need to know about building, installing and using a solar powered water heater.
If you are interested in learning exactly how to heat with solar and reduce your bill, then this is the perfect resource for you!
When used in addition to your existing water heater, a solar water heater reduces the need to artificially heat water. Simply put, the water entering your water heater is already hot.
Solar water heaters have been around for 100's of years in the United States. The first patent for a commercial solar water heater was in 1891. In fact, Butch Cassidy's place in Utah still has remnants of a solar water heater.
<![if !vml]>

<![endif]>
"I am now doing my part to save the environment."

My 16 year old son is always talking to me about how we need to recycle more and how we need to help save the planet.

I came across your website and decided to give it a try. I made building  our solar hot water heater a project for me and my son.

He thought it was great. We had a lot of fun together and it was really easy to do. I am proud to say that I am now doing my part to save the environment.

Thanks again,

Jay Klein
<![if !vml]>

<![endif]>
The guide is for sale today (check bottom of page for price) and all of the raw materials cost less than $70 and are easy to find at your local hardware.
This guide includes over 90 pages of detailed instructions that are very easy to follow. There are several different plans for building your own solar water heater.
Solar hot water systems produce clean, non-polluting energy. A single hot water system can offset the equivalent of approximately 40% of the carbon dioxide emissions of a modern passenger car. They are safe for our environment, safe for plants, safe for animals and safe for all of us.
By following the step by step directions contained within our guide, you will be able to build and install your solar water heating system. A solar water heater poses no threat to the operation of your existing water heater. In fact, installing a solar water heater can prolong the life of your conventional water heater.
<![if !vml]>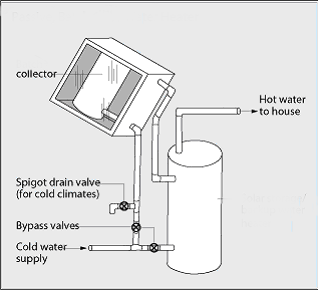 <![endif]>
Our do-it-yourself guide is currently for sale for $29.99
We priced our guide this low to make it easily affordable for everyone.
All of the raw materials are very cheap and can be found for less than $70. Our guide is compact with clear illustrations and step-by-step, easy to follow information which gives the best results, giving you incredible value and enabling you to get set up in no time at all.
Our guide is simple enough for even a novice to follow.
Once you have this technology installed, you can expect to save money every month for many years into the future. That's savings for a one-time payment of just $29.99
Pre-built systems cost well over $1000 and are worth every penny, however, these take a lot longer to pay for themselves. Our system will pay for itself easily within 1 month.
Start enjoying the benefits of a solar powered water heater today like thousands of other happy customers around the world!
<![if !vml]>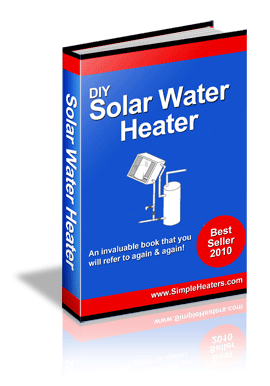 <![endif]>
Only $29.99 Today!
There are now 2 ways that you can get your copy of DIY Solar Water Heater.
Option 1: Green Living Kit
<![if !vml]><![endif]>

The Green Living Kit includes the DIY solar water heater and normally sales for $77. It has a total of 12 DIY guides and includes the following:

<![if !vml]><![endif]>DIY Solar Water Heater

<![if !vml]><![endif]>DIY Solar Panels

<![if !vml]><![endif]>DIY Wind Turbine

<![if !vml]><![endif]>DIY Solar Generator

<![if !vml]><![endif]>DIY Solar Hot Tub

<![if !vml]><![endif]>DIY Organic Garden

<![if !vml]><![endif]>DIY Solar Shower

<![if !vml]><![endif]>DIY Green House

<![if !vml]><![endif]>DIY Solar Oven

<![if !vml]><![endif]>DIY Chicken Coop

<![if !vml]><![endif]>DIY Root Cellar

<![if !vml]><![endif]>DIY Solar Pool Heater

Order all 12 guides with Green Living Kit for $39.99

<![if !vml]><![endif]>
Option 2: DIY Solar Water Heater
<![if !vml]><![endif]>

This option is for the DIY Solar Water Heater by itself. This was the only way to get this guide for the past year but with the inclusion of it in the green living kit, I wanted to give you the option.

Order Just the DIY Solar Water Heater Guide for $29.99

<![if !vml]><![endif]>